20 Feb

Transform your home with our glass wall system

Posted at 20:13h

in

Homes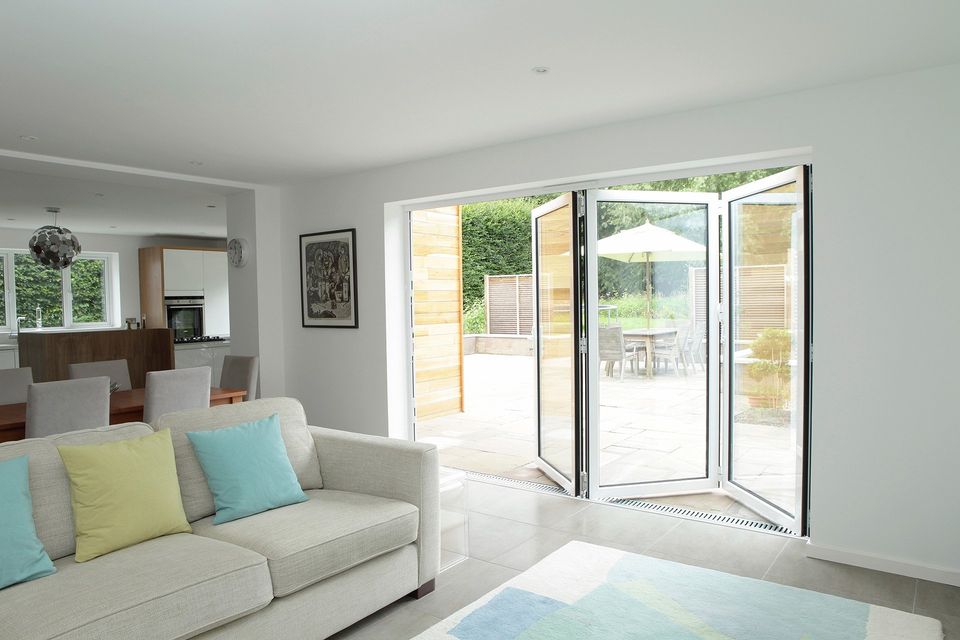 Ever been round to a friend's house for a dinner party and spent the evening locked in envy admiring their stunning glass wall window and door system? Yes? We feel your pain. No? Well, maybe that friend is going to be you.
When done right, a beautiful glass wall system can transform a room into a spectacular focal point – a seamless indoor-outdoor living experience. Bringing the outside in with moving walls of glass can lead to a healthier, happier lifestyle—not to mention the power of full-height glazing in transforming a space into the favourite room of a house. A room for family and friends to gather in, talk, eat, celebrate, and create lasting memories of balmy summer nights.
We can thank developments in aluminium technology, driving a move to chic and slim lines—it's about more glass, and less frame. Flooding your home with natural light, fresh air, and views are just some of the benefits of bi-folding glass walls. As autumn sets in, you'll notice why aluminium windows and doors are regarded as the best insulated on the market. You'll still have the stunning vista, but you can enjoy it from the quiet, warm inside.
Choosing the right look for your home can seem like a minefield, so we've put together this short guide to help make it simple to pick your next home adventure. And don't forget, we make all our windows and doors bespoke in our manufacturing site in Dagenham, so if you have any quirks or special requests, we can accommodate.
Let's take a look at your choices:
1. Operations
Whether it's sliding doors or folding doors, large operable glass wall systems can transform your lifestyle and home. There are three popular choices when it comes to creating an indoor-outdoor experience.
Sliding An evolution of the simple sliding door, stacking doors comprise multiple sliding panels that stack behind a single fixed pane. Sliding doors can accommodate exceptionally large areas of glass, meaning uncluttered views when closed. For the cleanest appearance, look for stacking doors with that stack flush.
Pocketing The pocketing door system offers an uninterrupted opening provided there's sufficient wall space to create a custom cavity. The multi-slide panels stack and slide into the wall completely out of view. Additional building works will be necessary
Folding Folding doors, also known as bi-fold doors, are increasingly popular and a visually impressive way to blur the distinction between indoors and out. Multiple glass panels fold accordion-like on hinges and can be stored neatly to one or both sides. This option provides an almost full opening as much as 95% -that's larger than that of stacking doors and just slightly smaller than pocketing doors.
2. Configuration
Deciding between a folding, stacking or pocketing system depends on more than just aesthetics (and that fabulous open air experience)— you'll need to consider such things as intended use, traffic flow, and room layout when making decisions about size, placement, and opening direction.
Intended Use Think about your home and what the room will be used for… are the doors for creating flexible living spaces or for achieving a better view? Determining the purpose of the door system will help you make a decision about its size and where it should be. You might opt to install an additional glazed door for daily use as an alternative to opening the entire system. Expected traffic flow can dictate the best opening direction whether it's to the left, right, or down the middle.
Room Layout You'll also need to consider how the room is furnished and how that may affect the glass wall system. If you're interested in folding doors you need to decide if the folding panels, which stack at 90-degree angles, are best suited for in-swing or out-swing depending on the surroundings and performance needs. It's also best to avoid placing heavy furniture around the system. For stacking doors, panels will need to stack to the same side where the least amount of furniture is. With pocketing doors, furnishing is less of an issue.
There's one thing we know at DDG – your needs will be unique and for the very best results, homeowners should consider custom options. At DDG, all door systems are custom-made, with folding options available up to 10 meters wide, 3 meters high.
SLIDING PATIO DOORS
3. Threshold
The right threshold or sill enhances your indoor-outdoor experience, but also protects your home from outside debris, unwanted critters, water, and wind. Ideally, any glass wall systems used as external doors should be protected with an overhang. In cases without, weather-resistant thresholds are needed for protection from rain and wind.
For completely protected wall systems or those used indoors, a flush threshold offers seamless transitions from indoor to out or from room to room.
4. Glass
The type of glass you choose is extremely important. At DDG, double-glazed, low-e tempered glass is the standard option for improved energy efficiency and safety. However, single-pane can be fine for interior applications or in certain environments. In areas of extreme cold or heat, a triple-glazed option is ideal.
5. Hardware Finishes and Material Options
When it comes to long-term use and timeless beauty, hardware and finishes should not be overlooked. Our handle hardware has been cycle tested for durability and comes in a range of contemporary styles and finishes, as well as custom finishes to best match your existing hardware in the house.
One of the most important pieces of hardware for folding doors is the horizontal structural support installed above the opening. Most folding doors are top-hung, meaning
ALUMINIUM BI-FOLDING DOORS WITH NATURAL WOOD SURROUNDS
the weight is supported from the top. Top-hung doors mean effortless gliding—or, as DDG puts it "finger-tip operation"—and long-lasting durability because the assembly stays clean and dirt-free. In contrast, bottom-hung systems are easier to install but take much more force to operate and can accumulate dirt and damage.
Like your choice of glass, picking the best material option depends on location and climate. Let's take a look at the industry-leading materials available from DDG.
Aluminium Aluminium is inherently strong, meaning you can fit in really big windows and doors without the need for bulky frame support. This maximises the glass area, which gives you the best possible aspect. It's also durable, making it ideal for outdoor applications in temperate climates. In areas of more extreme weather, however, aluminium is better suited in secondary openings like patio enclosures or in interiors.
Aluminium is a high strength material that resists denting and warping making it practically maintenance-free, and boosting home security.
And if you care about the environment, aluminium ticks all the boxes—at the end of its long, long life, it's 100% recyclable without loss of quality.
Composite Aluminium/Wood You get double duty with this option—an extruded aluminium exterior for durability and weather resistance, while wood is used on the interior for added beauty and style. The hybrid panel construction is engineered for large openings requiring overside door panels.
Wood Wood is a timeless classic and a beautiful option for glass wall systems. The natural material offers great thermal efficiency but will require more maintenance than aluminium, particularly in outdoor settings.
Want to get dinner party-ready? To learn more about these unique applications of glass wall systems, or to take a closer look at the design considerations and material options listed above, take a look at our website www.ddgwindows.co.uk