05 Jun

Coloured uPVC Windows That Stand Out From The Crowd
DDG Windows have been fitting uPVC windows in London since 1983.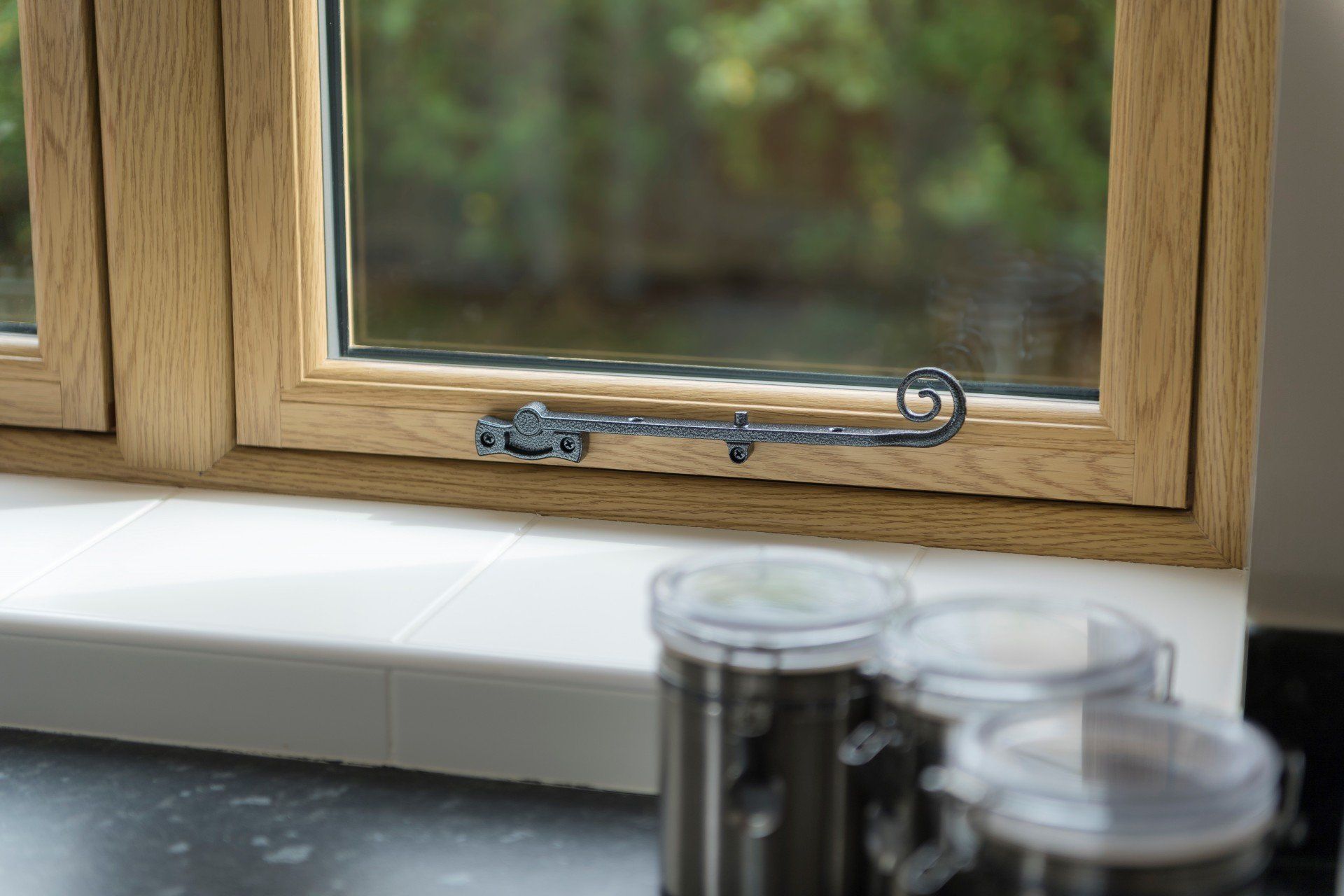 Are you ready to stand out from the crowd?
We have a wide client base across London and often our customers opt for the classic white option when deciding on their uPVC frames. However, we have seen a huge change as our clients look for more individuality for their homes.
This trend appears to be growing and at our high tech factory we are able to offer the highest standard of bespoke uPVC to suit every client individually. Colours will offer a variety of options for our clients for homes and the great news is that we at DDG are able to assist you in making that choice with an extensive range of colours to ensure you stand out from the crowd.
Let's start at the beginning!
What does uPVC mean?
uPVC is an abbreviation for Unplasticised Polyvinyl Chloride. uPVC production started in the 1960's in Germany, then Great Britain followed by the US. Over the years the production of uPVC has increased dramatically, and it now accounts for around 90% of all windows.
The majority of the uPVC sold are white, grey, black, brown and cream! But like the 1960's where there was an explosion of colour in fashion and music in 2020 we will see more colours being made available.
We will keep you updated on when these colours are available and here at DDG we currently offer the following finishes:
Smooth Grey
Smooth Black
Grey Aluminium
A lot of our customers find that the Smooth Black & Grey Aluminium enables them to achieve the Aluminium look at a lower cost. See some of our popular colour combinations below: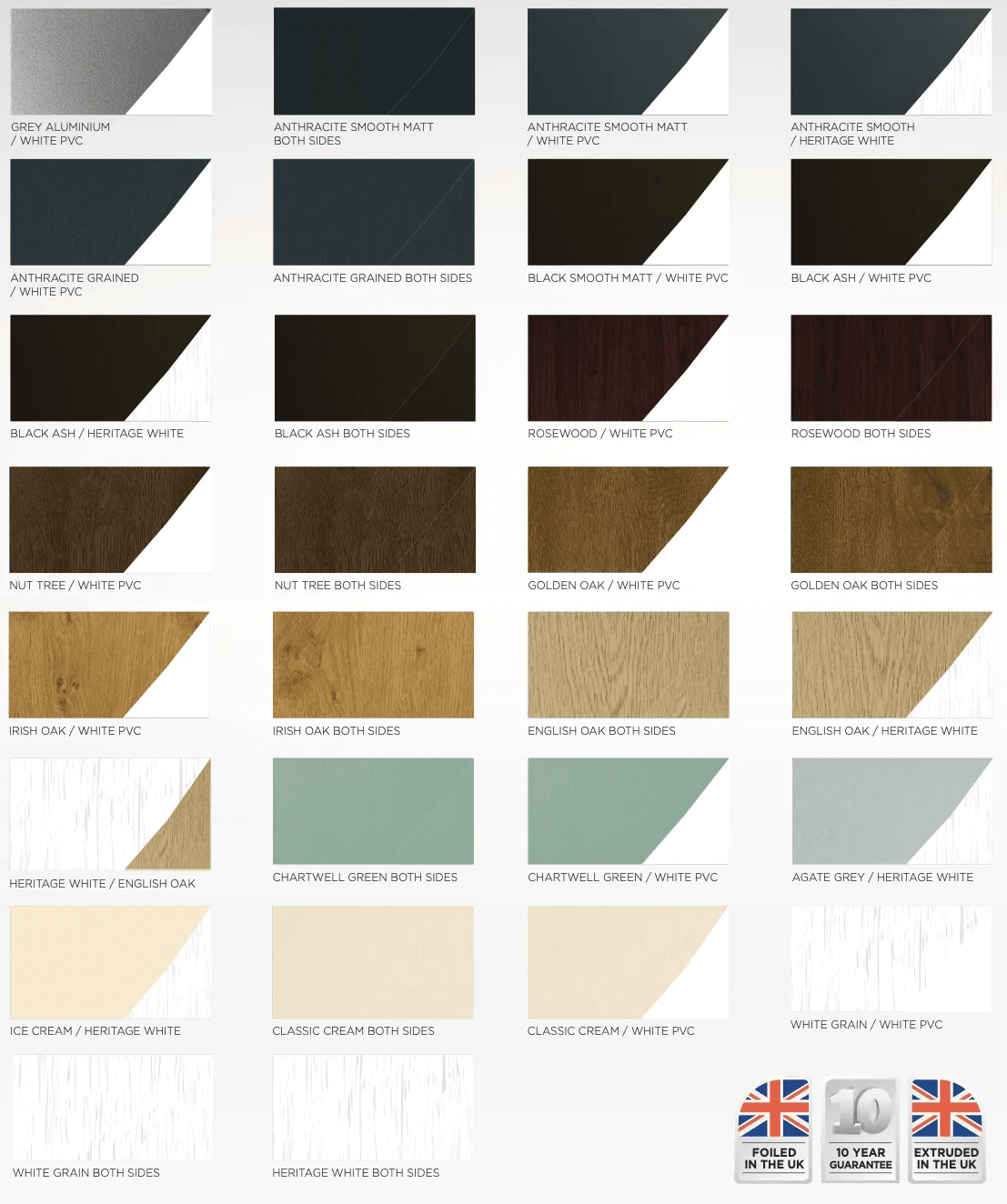 We help you pick colours that suit the feel of the room you are going for.
Grey and Black can offer a minimalist feel.
Chartwell Green can offer a Farrow and Ball outcome with a sophisticated look.
Rosewood can offer a warm welcoming feel.
What are the benefits of uPVC coloured windows and how are coloured uPVC windows made?
Coloured uPVC can be made by applying a foil as a form of a laminate finish. This creates the effect that can be found on any type of wood.
Once you have chosen your specific finish, the foil is applied via a heat bonding process which results in the foil being fused to the surface of the
uPVC
.
This process is essential as it ensures that by applying the fusion process, we are able to create a finish that is virtually unbreakable.
uPVC windows have other benefits too!
uPVC saves energy by preventing cold air and drafts entering your home. The double glazing offers high insulation and the vacuum between the panes acts like a solar panel! This ecological solution prevents heat and energy loss. They are weather proof and perform much better than hard wood frames which can swell and alter shape when damp and wet.
uPVC
also offers great security as intruders can enter a home much easier with hard wood windows
uPVC
can also offer amazing personalisation and with our bespoke service and highly skilled London-based team we are able to offer a tried and tested product that will last for a long time.
Coloured
uPVC
windows offer all of the above benefits of
uPVC
including reducing the heat loss by up to 30% combined with the additional style options to ensure that you stand out from the crowd!
Please feel free to
contact us
to book a free consultation and a non-obligation quote to discuss all of your requirements or visit one of our show rooms.