03 Dec

Black Is The New Black When It Comes To Front Door Handles And Escutcheon

Posted at 13:00h

in

Doors
As home design trends continue their shift toward the dark and dramatic, we're taking a look at how homeowners compliment their new composite doors with stunning black door handles and features designed to draw people's attention to the outside of their home.
The front door is the first thing guests notice when they arrive. So, whether it's a tailored composite door with side panels, a charming Chartwell green front door, or an on-trend anthracite grey front door, it plays an important role in making you feel safe and protected and as an extension of your personality.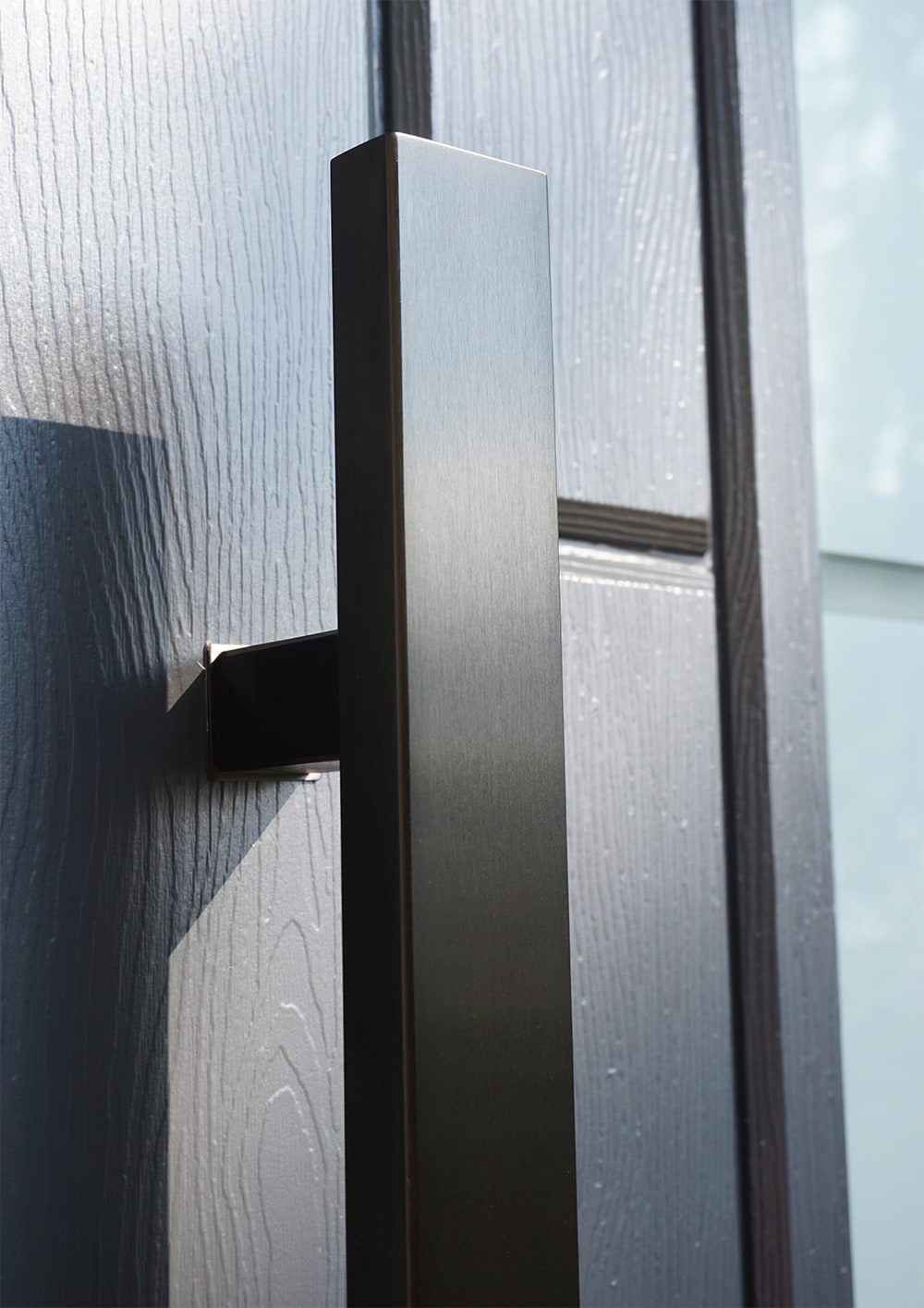 With the outside of the home just as important as the interior, your front door is also now considered a work of art. We know appearances are not always everything, but having a composite door custom-made exclusively for you with superb attention to detail and best-in-class technical specifications, the humble front door has taken on a new role. You can personalise the colour, style, frames, glass and handles at a touch of a button. [Check out our door designer here.]
Leading door manufacturers, Xtreme from Vista Panels, Spitfire and Rockdoor exhibited new hardware earliest this year at The Fit Show, and black composite doors and door styles were plentiful. Whilst not all door frames were black, many homeowners are opting to customise them with black bar handles, black traditional lever handles as well as other door accessories like black escutcheon – keyhole covers, letter boxes and knockers. The result is as eye-catching as it is premium in its finish.

When choosing a new door, it's important to ask yourself exactly what door manufacturers are offering and if the door you like fits its purpose. Don't worry, we are here to help you make the best choice for your home.
Don't forget, a badly fitted front door leaks heat and lets the cold in. Not to mention being a security threat to your family.
We proudly supply and fit best-in-class composite doors from only our trusted suppliers, that not only keep the heat in and secure your home but can also be designed by you to suit your unique style and taste.
Contact us today to choose the best door for you – speak to our team or visit us at one of our two showrooms.